To begin with, thank you so much for the tag Alys in Bookland! This tag was a lot of (stressful) fun to put together and I am honored you tagged me. 🙂
Now, I say stressful fun, because I thoroughly enjoyed looking at my bookshelves and thinking back to all the books I've read before, but it was sooooo hard to narrow all those books down to a single answer per question (haha, can you spot the spoof off a book title?). That being said, I was able to get it down to only 2 ties out of the 12 questions- which, believe me, is way better than it started! In addition, I tried to represent all my favorite books/series, so some answers could fit multiple (or all) questions, but I tried to only mention each series once.
Alrightly, so let's see if you all can get to know me better…
Favorite Book of All Time
Ahhhh, so this took me FOREVER. I hate it when people ask me this question because I love so many books! But, I came up with an answer. I decided Cassandra Clare's Clockwork Princess. This book is the conclusion to one of my favorite trilogies of all time. I love all the characters in the book, the plot is thorough, the villain is sneaky and evil, the setting is gorgeous, and the witty writing is fantastic! Clockwork Princess has my favorite epilogue, and only Cassie Clare can create a such a marvelous love triangle and work around it as effortlessly as she does.
Favorite Book 5 Years Ago
This took some thinking, but I had to go with The Mark of Athena, by Rick Riordan. The Percy Jackson books were the first series that I finished (all 5 books) in a weekend in fifth grade, and I've been addicted to Rick Riordan's writing ever since. Mark of Athena is the culmination of everything I was waiting for in the Heroes of Olympus and Percy Jackson series, and I remember fangirling over the book as I was reading it.
Favorite Trilogy/ Series
I have many, many beloved series, but all the other ones are represented elsewhere on this post which makes The Lunar Chronicles my favorite series! I bought Cinder (Book 1) about 5 years ago because I heard great things about it, and I love Cinderella-type stories. But I never got around to reading it. About a year ago, I decided to pick up the book, and I loved it so much! This series was fantastic! Every time Marissa Meyer introduced a new character, I fell in love all over again. I adored the "happily ever after" vibe the books had, but there were still challenges and action-packed sequences. I definitely recommend these books!
Last Book I Read
Yay! An easy one! The last book that I read was The Princess and the Fangirl by Ashley Poston. I loved the first book in this series, Geekerella, and I was thrilled to pick up the sequel. This book did not disappoint; I love how it kind of picks things up from where we left off, but with different perspectives. Seeing ExcelsiCon from anti-nerd Jess is amusing and watching her butt heads with lifelong fangirl, Imogen, is wonderful! Overall, this book is geeky and hilarious, and it makes me feel giddy inside.
Last Poetry Book I Read
I'll admit it. I don't read much poetry. Although, I'm guessing the last poetry book I read was Where the Sidewalk Ends by Shel Silverstein. I really like Silverstein's writing because it is comedic, smart, and relatable (or ridiculously unrelatable 🙂
Book That Influenced My Life
This was another hard one for me because books have always had a large impact on my life and emotions, but I decided to choose the Little House books by Laura Ingalls Wilder. These books started my reading journey. I was in third grade, and I had finished all the Junnie B. Jones and Magic Tree House books. I enjoyed them, but I read them because my teacher told me to. That changed when I picked up Little House in the Big Woods. I fell in love with the story and the time period, and within the next year, I had read every book written about Laura, her mother, her grandmother, her great-grandmother, and her daughter. These books made me into a reader, and that definitely changed my life (for the better, of course!).
Book That Made Me Ugly Cry
Alrighty, here is one of my ties. I was stuck between The Fault in Our Stars and Harry Potter and the Deathly Hallows.
I put off reading The Fault in Our Stars for a long time because I knew that it was sad. I knew I would cry, but when I finally picked it up, I was still not prepared. It was heart-breaking. I started the book on a drive to Lake Tahoe, California. When we got to the cabin with my family, I said a quick hello, then retired upstairs for the next two hours to finish my book. My mom walked into our shared room to tell me to go socialize and found me sobbing down at my book. She of course laughed at me, but I did not care because he was dead and that was all that mattered.
On the other hand, I was heart-broken and emotionally drained the day that I finished Harry Potter and the Deathly Hallows. Some backstory: my mom didn't let me read Harry Potter when I was growing up (because "witches and magic" *rolls eyes at mom), then my dad read the books and loved them. That being said, it took me a really long time to get into the Harry Potter fan club, and when I finally read the books, I had already seen all the movies at least 3 times. Because of this, I thought I was prepared to read Deathly Hallows. Sadly, I overlooked how emotionally attached I was to all the characters after reading about them in the last six books. The character development in the books is astonishing. When people started dying, I started crying. For example, based on the movies, I didn't realize how important Tonks and Remus were to me- until they died in the books, leaving their orphan child. *sobs uncontrollably
Books That Made Me Laugh
Yup. Book-s. This is my second (and last!) double-answer. For this question, I was torn between Again, But Better by Christine Riccio and What If It's Us by Becky Albertalli and Adam Silvera.
Again, But Better is hilarious, sweet, and relatable. There were times where I felt like Shawn was speaking to my soul. I was constantly laughing at Shawn's spastic actions, her inability to control what she said, and her passion toward her beliefs. One of my favorite scenes was when Shawn and Pilot decided to have a "move-off" and they danced in Versailles.
What If It's Us is an upbeat, quick read that I finished in a day because of how much I was enjoying myself. Arthur's passion about life and the universe were uplifting, and his interactions with sometimes sullen, Ben made me laugh. I loved watching them get to know each other on their many first date redos. One of my favorite scenes was when they were talking about the sexy, green Skittle- I mean M&M. 🙂
Character I'd Like to Be for a Day
After some thinking, I decided that I would want to be Aelin Galathynius for a day! I would not want to experience her awful backstory, but I would love to spend a day as a strong, kickass leader. Also, I'm fascinated by the idea of finally feeling what it is like to have a mating bond and magic in my veins. Oh, and I'm hoping to ride a wyvern while I'm at it!
Book So Good, I Dreamt About It
The Exiled Queen by Cinda Williams Chima. My husband told me I had to read this series when we first started dating- back when I was still freaking out over the fact that the guy I liked was super hot and loved to read! So maybe this series has a special place in my heart, but this book is also just beautifully written! I would fall asleep dreaming about being in the Seven Realms with Cuffs and Raisa living their experiences. All the flirty scenes were described perfectly to where it satisfied what I wanted to happen while being just vague enough to make them perfect daydreaming scenes.
Book That I Did Not Finish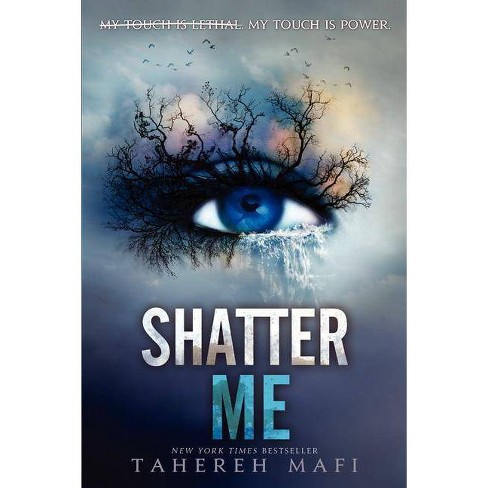 Easy. Shatter Me by Tahereh Mafi. I know lots of people like this series, but it is one of the only books that I stopped reading because I disliked it. Sorry guys! I hated Juliette's personality because she seemed really weak and stupid, and crossing out words in the book drove my brain absolutely insane. Lastly, I didn't ship her with the guy I was introduced to, so I decided that the book wasn't worth my time.
Book I'm Excited to Read
I have to pick Red, White & Royal Blue by Casey McQuiston! This book has been on my radar for quite some time now, and I have heard such great things about it! The plot is intriguing to me, and the characters seem entertaining!
Well that's all, folks. Thanks for sticking with me during this long list of books! I had a lot of fun putting my list together, and if anyone has anything to say, I would love to hear your opinions!
If you have made it this far in my post, then I tag you (and anyone else!) in this challenge of narrowing down your favorite books! 🙂
Thanks everyone! Happy Reading!
References for Pictures Used: